August 2003 to December 2011
1. Preparation
2.Further Training
3. Maritime capability
4. Afghanistan Preparation
5. Afghanistan-Op Herrick
6. Libya
Apache Delivery
On 25 March 1996 the contract was signed for the production and delivery of sixty-seven of the WAH64, which would be designated as the Apache AH1 (Attack Helicopter) by the Ministry of Defence.The contract also included simulators at Middle Wallop, Dishforth and Wattisham.
The initial eight production Apaches were constructed in the USA, with the first one, ZJ166, flying on 25 September 1998.
The first aircraft to be assembled by Westland at Yeovil was ZJ172, which made its first flight on 18 July 2000.
The British Army Apache is powered by twin 1850 shp Rolls-Royce RRTM-322 engines, which give it a maximum speed of 182 mph and a range of nearly 300 miles, depending upon the weight of weapons, ammunition and fuel carried.
It can be armed with a combination of AGM114 Hellfire missiles and CRV7 rocket pods, carried on stub-wing pylons and the formidable Hughes 30mm M230 chain gun. It also has an advanced Longbow Fire Control Radar and Electronic Warfare (EW) capability called the Helicopter Integrated Defensive Aids System (HIDAS).
It also boasts a suite of highly sophisticated day and night sensors, the Target Acquisition and Designation Sight (TADS) System. As a whole the Apache is without doubt the most capable, complicated and demanding weapons system that the AAC and REME have been called upon to operate. It was certainly a huge leap forward from the TOW armed Lynx.
Preparation
Major Andy Cash took command of the Squadron in August 2003 and undertook major restructuring and 'remanning' as personnel were posted in and out to ensure that it had the best team possible to field the Apache, with a more robust SHQ and Ground Support Flight.
The aircrews' Conversion to Type (CTT) course at Middle Wallop was very demanding; learning the new skills required the ability to fly the aircraft while operating the Pilots Night Vision System (PNVS) and utilizing the aircraft's sensors and weapons to best effect. This also took six months, which left the aircrew dislocated with the Squadron up at Dishforth.
The night flying element of the programme was particularly daunting as, due to problems with the weather and unserviceability, by early February the course was three weeks behind schedule and each student was faced with completing twelve night sorties in less than three weeks. The aircrew tasks are divided between the front-seater, whose main responsibility is engaging the weaponry and fighting the aircraft, and the rear-seater, who concentrates on flying and navigation. The key differences between flying on the PNVS and NVG (Night Vision Goggles) were the lack of depth perception due to the monocular vision and the rather poor Forward Looking Infrared picture.
Students expressed the disorientating impact of the volume of instruction they had to absorb as like 'drinking from a fire hose.' The instructors had to work equally hard as they had to fly using the Target Acquisition and Designation Sight (TADS).
The Final Handling Test required each pilot to lead a formation trip to an area outside the local low flying region, map of the Earth, flying into battle positions and achieving a set time on target. Once away from the bare expanse of Salisbury Plain they became all too aware of the hazard presented by wires and cables.
After the dispersed nature of the initial training phase, the Squadron reformed at Dishforth as a complete sub-unit in April 2004, on the completion of the aircrews' CTT.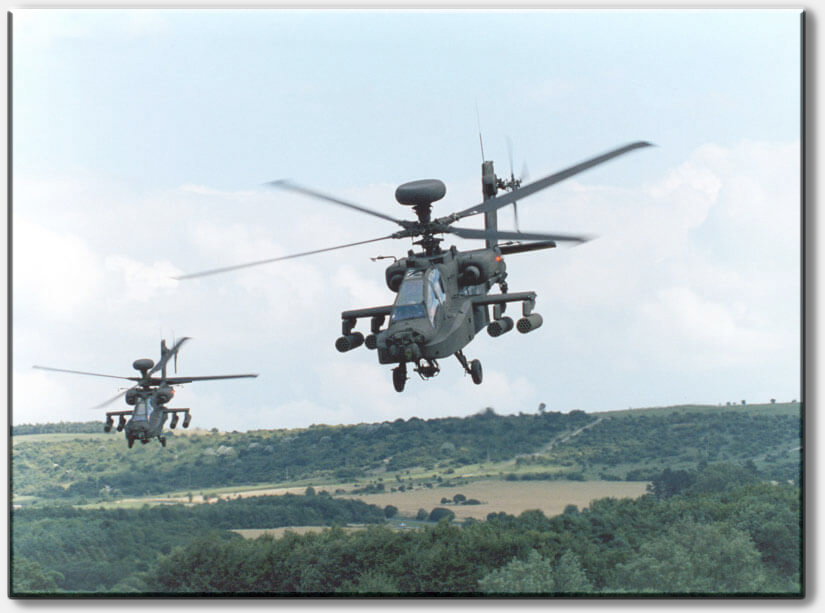 Training on Salisbury Plain
Conversion to Role
Then began the six month CTR course at Dishforth, as a Squadron, under the guidance of AMTAT, which 'occupied our every moment, day and night.'
One of the young aircrew taking part in CTR was Captain Piers Lewis, who had joined the Squadron as a Gazelle pilot in 2002. He regarded the Apache CTR as
'a real change in gear, going from 2nd in a Gazelle to 5th in the Apache.'
A considerable portion of the training was carried out in the simulator and, as a whole, CTR was very demanding. Another feature of this period was the massive increase in curiosity from the general public. The Al trunk road, which ran alongside one edge of the airfield, became a viewing platform for interested civilians. The OC noted,
'The difficulty of undertaking, what is in effect, a full-time training course, while also dealing with the demands of Regimental life cannot be understated. As you would expect, everyone pulled out all the stops and despite fatigue and frustrations managed to maintain good humour and achieve the training objectives.'
New to the ground crew was the introduction of a new qualification and appointment – Arming Landing Point Commander (ALPC). This soldier would need to complete the Apache Ground Crew Basic Course and then the Apache Ground Crew Advanced Course before progressing onto the ALPC course.
All these courses were to be taught to personnel by the contractor ATIL at Middle Wallop. Selection for this position was made by Captain Lee Tinley-Beets and myself, who had also been commissioned from the ranks and was the Forward Operating Base (FOB) Commander. We selected the soldiers who had shown a higher level of aptitude on the two preceding courses, were already a minimum of Lance Corporal rank and had at least four years' service remaining.
Each Arming Point team would have two ALPCs and an AH(A), the remaining four must be at least AH(B) qualified. As the FARP Commander I then selected team members for further training, this included DROPS wagons (Demountable Rack Offload and Pickup System) and the Moffet Mounty (all terrain fork lift trucks). Each Arming Point team had to be selfsufficient and capable of being able to deploy with fuel and munitions at any time in support of advancing Apache aircraft.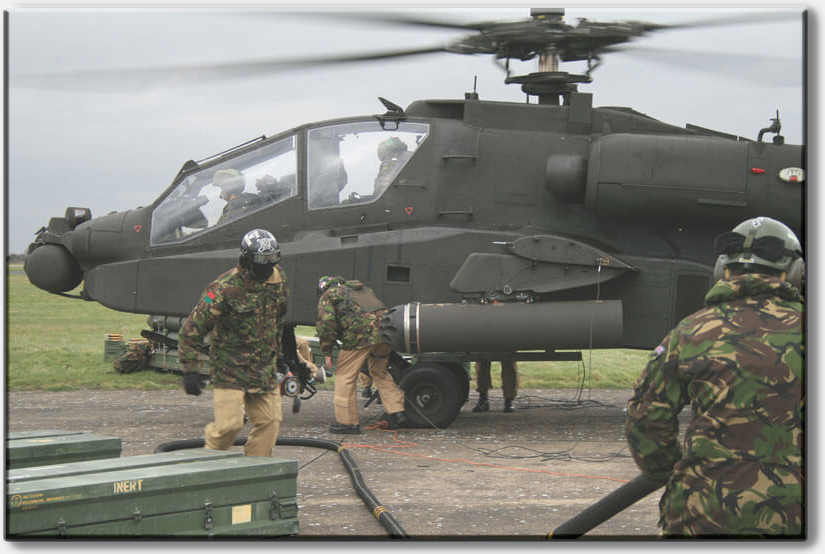 Refuelling an Apache during conversion to role training at Woodbridge, Suffolk
A significant milestone was reached on 17 June, at BATUS in Canada, when Major David Meyer and Captain Paul Mason, the crew of ZJ230, fired the first live Hellfire from a British Apache. There followed the development of the Close in Fire Support procedures, to provide AH firepower directly in support of and on call from ground forces, down to the lowest level of an infantry section.
Back in Yorkshire, by June the training had progressed so well that the Squadron deployed out of Dishforth to Elvington, an old WW2 Bomber Command airfield which had a 3000 metre runway and a huge tarmac area alongside it (This location later hit the headlines in September 2006 when Richard Hammond from 'Top Gear' had a high speed crash in a jet powered car).
Further Training
Attention then turned, in September, to Composite Air Operations training, which was quite an eye-opener for the Squadron as a whole, and especially the planning teams, who had to adjust from their usual six to eight hour planning cycle to one of three hours.
The purpose of the week was to operate with others and understand their planning processes and operating procedures. This resulted in the award of Limited Combat Ready status for the aircrew, which was a major milestone for the programme. The exercise itself was very valuable – operating as part of, and in command of, mixed formations of fast jets and helicopters, e.g. Tornado, Jaguar and Chinook, supporting a ground commander; as well as working with intelligence assets such as E-3D Sentry AEW1 and Sea King ASaC 7. It was all undertaken within a high air defence and simulated electronic warfare threat environment, Andy Cash recalls,
'One of the most challenging aspects of the process was solving issues of logistics support, particularly with regard to adequate fuel and communications. Despite a steep learning curve and a high workload we had great fun, learned a lot and still managed to pull together a seven-ship formation recovery back down the A1 from RAF Leeming to Dishforth, on 16 September 2004, which certainly caused a few heads to turn!'
One week later, the aircrew and the planning staff went to the Combined Arms Tactics Trainer at Warminster – a warehouse housing state-of-the-art simulators for Challenger II tanks, Warrior fighting vehicles, Scimitar recce vehicles and a number of others.
Despite a low resolution generic simulator representing the Apache, the all arms training was very worthwhile. Planning and fighting alongside 'virtual' armoured recce and other forces and using simulator firepower (Apache, artillery and fast air), they were able to very effectively replicate a genuine battle, demanding integration of assets and firepower to destroy the enemy, which definitely had a mind of its own.
16 Air Assault Brigade's Exercise Eagle's Eye, which took place in October. This exercise was designed to prove the Attack Helicopter Initial Operating Capability and covered much of the UK, from Warminster to Dumfries. Starting at Keevil airfield, north of Salisbury Plain, there was an opportunity to run through procedures and rehearsals along with Infantry Battle Groups, Armoured Recce, as well as a wide range of rotarywing assets: Chinook, Puma, Merlin, Lynx and Gazelle. Once complete in the South, the entire effort moved north for several assaults in the West Freugh area.
The rest of the exercise consisted of high tempo operations based around two airfields near Carlisle and West Freugh, conducting missions across the north of England and southern Scotland. The exercise was due to culminate in a final all arms dawn attack, however, the night before the attack, the Battle Group was hit by winds up to 60 knots, blowing away a number of tents (including one housing the Squadron's Mission Planning Station), and damaging several aircraft. Come the morning, the wind was still too high to lift and unfortunately, the final assault never happened.
Nonetheless, the Squadron had done enough and IOC was declared as having been tested and achieved, which was a really big first, not only for the Squadron but also for the AAC and UK Defence as a whole. This would enable four Apaches to be deployed in a 'semi-permissive environment' for reconnaissance and strike missions, but not to sustain prolonged operations. An important exercise planned for 2005 also included maritime training on board HMS Ocean.
The next major milestone for the achievement of the Apache's fully worked-up capability came in May 2005 with the establishment of an Attack Aviation Battle Group based on 9 Regiment (with 664 joining 656 as the two lead Apache Squadrons) during Exercise Eagles Strike.
This was a significant test for the entire Regiment. It started at St Mawgan in Cornwall, moved to Merryfield and culminated on Salisbury Plain. The exercise was a great success, proving all the hard work over the past year or so and proving that given sufficient technicians and the right spares priority, over 90 per cent serviceability could be achieved.
On 26 May, the Squadron took part in a fly-past by the whole Regiment over Middle Wallop. 656 then took on the first ever Very High Readiness commitment for an Apache squadron, as the Lead Aviation Squadron group from 01June 2005, which meant that it was at five days' notice to move anywhere in the world for operations.
In effect it could now be said that the new AH-equipped 656 Squadron had arrived and was ready for business.
Maritime Initial Operating Capability
However, there was no time for complacency, as a mere five days later, on 06 June, the Squadron was off again; to embark in the helicopter carrier HMS Ocean at Sunderland, which was under the command of Captain Tony Johnstone-Burt, who along with his crew gave the Squadron a very warm welcome.
This was the beginning of the process of delivering Maritime support to the RN and RM with regard to both amphibious and littoral operations. Individuals had been attending specific Maritime training courses since October 2004, but this was Army Aviation's first ever Attack Helicopter Squadron embarkation – though it should be remembered, of course, that 656 crews had taken off from escort carriers as long ago as 1945 and over the succeeding years few Army pilots ever resisted an invitation to land on a moving platform at sea.
The primary aim was to complete deck landing qualification for all aircrew, the secondary aims were to prove the procedures for embarkation and practise the complex ground and technical support procedures to support Apache when embarked. It was, in effect, the dress rehearsal for the major maritime Exercise Pyxis which would take place later in 2005. It was the start of a very special relationship with HMS Ocean. Once more Keith Millsom supplies some details,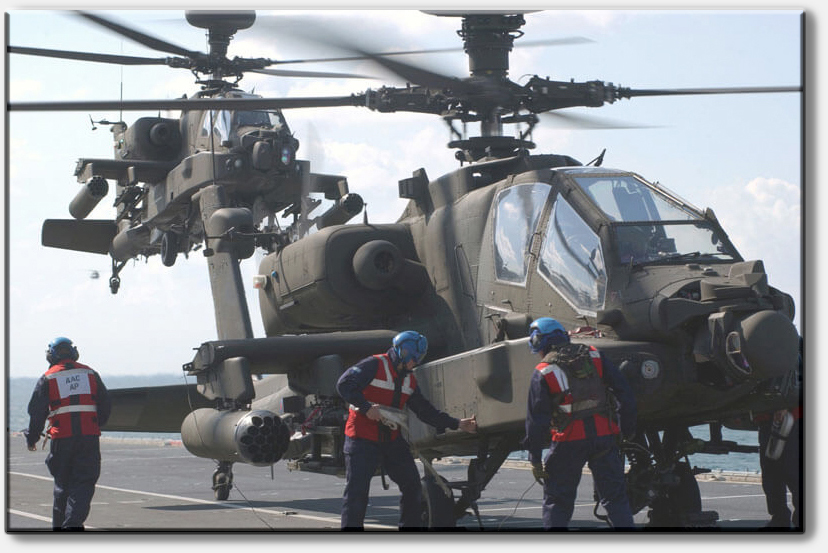 Squadron Apache's on HMS Ocean
The Squadron joined the ship's crew in Newcastle and loaded all the stores that were going to be required to support the Apache whilst at sea for the forthcoming two weeks. We began with well planned day missions without munitions and then progressed onto "bombed up" day and night missions.
We had a few problems from the ground crew perspective that we had to adapt to. One was due to the fact the Apache does not have automatically folding rotor blades, so each time the aircraft had to be taken on the lift and placed in the hangar, we had to manually fold the blades. This was a very slow process and very manpower intensive. The time taken was reduced by fifty minutes.
The other problem was that due to the amount of movement the ship does at sea, everything on deck had to be lashed down, which could be very time-consuming.'
For crew chief Corporal Morini, the main learning experience was adapting the existing FARP procedure to make it work and be safe afloat. For example, at a land-based FARP the Apaches would be side-by-side 40 metres apart; this was impossible on a ship, so the helicopters had to be set out one behind the other. On land all hands gathered around on either side at the same time; at sea they worked from the ocean side inwards. Ammunition stowage on deck was also a major issue.
He found his naval colleagues to be really helpful in working out practical answers to problems and so a workable system evolved. There was also a very harmonious atmosphere in the messes after work. Chris Hearn, Tom O'Malley and Sean Dufosee had the task of ensuring that all nineteen pilots would gain a qualification in deck landing by day and night. Sean Dufosee did the lion's share of work for it in terms of staff work and development (then teaching Chris Hearn and Tom O'Malley what to do). His effort was 'frankly incredible' in the view of a very experienced contemporary.
Qualification involved no less than a total of 320 deck landings over a period of ten days. At the end of the month Chris took Apache ZJ227 to Portsmouth and was on board HMS Ocean for the Trafalgar 200 celebration and review by Her Majesty the Queen.
In July, Captains Piers Lewis and Jake van Beever flew an Apache to Fairford to take part in the static display at the Royal International Air Tattoo (where they also ran into David Amlôt who was due to take over the Squadron from Andy Cash in the following year).
As a reward for all the hard work, the Squadron then embarked upon a programme of adventurous training. This consisted either of windsurfing in Italy, sailing across the English Channel, or a multi activity week in the Lake District and was followed by well deserved summer leave.
On return from leave the Squadron deployed immediately to Plymouth to join HMS Ocean again for Exercise Pyxis, operating with 3 Commando Brigade RM as part of a full Tailored Air Group alongside Sea King, Lynx, and Chinook helicopters, with Jim Lyons as its Sergeant Major.
Piers Lewis has vivid memories of flying off the coast of Devon for an exercise mission on Dartmoor and then returning to the ship in poor weather with one Apache above the clouds and one below. He also noted the landing technique which all aircrew practised 99 per cent of the time, flying alongside the carrier and then flying sideways to land, with running landings being for emergency use only. It was a refreshing experience with a strong emphasis on aviation operations and the range firing of rockets and 30mm, though the Squadron disembarked earlier than expected, and before undertaking Exercise Joint Warrior from HMS Ocean, because by this time it had been tentatively warned that it might have to begin planning for a possible deployment to Afghanistan in 2006. Nonetheless, IOC (Maritime) was duly achieved.
Afghanistan Pre-deployment Training
Meanwhile the Regiment, back at Dishforth, was working hard to prepare a suitable Afghanistan training package, with the full support of HQ Squadron.
Squadron personnel were informed that on top of all the normal weapons training, all soldiers would be trained and tested in fire and manoeuvre tactics, advance to contact and withdrawal under fire drills. Anti-ambush drills for those that could be required to move by convoy whilst on deployment would also be taught. The Afghanistan theatre OPTAG (Operational Training and Advisory Group) training covered theatre briefings, intelligence, Afghanistan customs, basic introduction to useful phrases and mine awareness, amongst other subjects.
Running concurrently with this military training was the selection and preparation of the vehicles and aircraft, as well as all stores for the four month deployment. A comprehensive issue of personal clothing had also to be organized. Because the Squadron were going to be deploying in the winter and returning in the summer, clothing to cater for both extreme climatic conditions was required. This resulted in a huge amount of kit having to be packed.
Overall, the planning effort was intense as the Apache was going on operations rather sooner than had been anticipated. In the meantime Andy Cash had been to Afghanistan as part of the 16 Brigade Recce party. He flew to what would become the site of Camp Bastion and which at that time consisted of,
'A berm, a few vehicles and a couple of tents. On my return I briefed the Squadron on what I had seen – mostly sand.'
Exercise Herrick Resolve at Sennybridge with the Parachute Regiment took place at the end of the year, followed in January 2006 by mountain flying from RAF Kinloss, under the direction of 664 Squadron, which was taking the lead in this aspect of training, and then by Exercise Herrick Eagle around the Wattisham area, which included other air assets and ground-based call-signs to try and replicate the types of missions which could be expected in theatre. This included live firing and, naturally, sleeping in the field, Piers Lewis recalling that to keep warm, two sleeping bags were desirable.
In order to prepare more fully for the 'hot, desiccated and mountainous' conditions to be expected in Afghanistan, the Squadron deployed to Thumrait Airfield in Oman in February 2006 for Exercise Desert Eagle. Here they could practise dust-landings, where the storm of sand kicked up by the helicopters' revolving rotor blades would render a pilot totally reliant on the data projected on the monocle in front of his (or soon, her) right eye.
Much time was also spent on firing ranges working with Forward Air Controllers, so that they could familiarize them with the Apache's weaponry and capability. A third reason was the opportunity given to each pilot to fire two Hellfire missiles, thereby covering a multiplicity of scenarios. Piers Lewis remembers, with almost equal relish, not only sleeping in a poncho out in the desert but also the one second delay followed by a huge 'whoosh' as a Hellfire was released.
Afghanistan – Operation Herrick
The conflict in Afghanistan has been described by the former British ambassador in Kabul, Sir Sherard Cowper-Coles, as 'a multi-player, multidimensional, multi-decade civil conflict, the origins of which go back many years.' This is perhaps understating the complexity of the operation.
He added, 'Our servicemen and women have conducted a counter-insurgency campaign of unending valour and increasing professionalism.' The Chief of the Defence Staff, General Sir David Richards, gave his views in an interview with The Times in November 2011,
'I have every expectation that we will all agree in ten years time that it was a necessary war and we've come out of it with our heads held high. While I am the first to concede that we have made mistakes, collectively and individually, the fact remains that there has not been a terrorist attack launched from Afghanistan in this time. If the Allies had not gone into Afghanistan we should have expected more 9/11s.'
Since 2002 all British operations in the war in Afghanistan have been conducted under the codename Operation Herrick – the British contribution to the NATO-led International Security Assistance Force (ISAF). Operation Herrick increased in size and breadth to match ISAF's growing geographical intervention in Afghanistan. After nearly three years of training and preparation, in the spring of 2006 the Squadron would be a part of Operation Herrick 4. As the OC noted, this was,
'Nothing new for the Squadron; but a totally new world for the Apache attack helicopter. SHQ, three flights, ground crew and REME technicians now look forward to putting into practice the teamwork that has been honed in training.'
As has been noted, this was the first operational tour with the Apache Longbow; once more the Squadron was paving the way for the AAC. Joint Helicopter Force (Afghanistan) consisted of RHQ 9 Regiment, with 656 Sqn providing the Apaches, 672 Squadron the Lynx and 1310 Flight from RAF Odiham the Chinooks, along with the Tactical Supply Wing, Mobile Air Operations Team, and Joint Helicopter Support Unit elements. It was based on Kandahar airfield (KAF) in the south of the country. The British Government's aspiration with regard to increased UK military participation was expressed by the then Secretary of State for Defence, Dr John Reid, at a Press Conference in Kabul on 23 April 2006,
'We're in the south to help and protect the Afghan people to reconstruct their economy and democracy. We would be perfectly happy to leave in three years' time without firing one shot.'
With hindsight it can certainly be said that Britain's involvement in Afghanistan was paved with good intentions. Be that as it may, what is not in doubt is that 656 Squadron prepared as thoroughly as possible and that none of the training was time wasted in preparation for what would be a very testing tour of duty. This author can well recall a conversation a few years ago with a very experienced military pilot, who told him to,
'Think of a really bad day in Northern Ireland at the height of the troubles, multiply that by a hundred and then you have some idea of the situation in Iraq…but Afghanistan…that's different again…that's a real shooting war.'
There was enough time to get a few days leave in before all the troops were bussed to RAF Brize Norton for their military flights out to Kandahar (KAF). Corporal Morini was given his Acting Sergeant's tapes on the bus and told he would be the Ammo Sergeant. Essentially his job would be to ensure that sufficient munitions were in the right place at the right time, with adequate stocks being maintained.
The advance party was already in theatre to pave the way for the arrival of the aircraft that would have to be rebuilt and test flown before the Theatre Qualification (TQ) package could begin. Captain Chris Hearn and WO1 Tom O'Malley were the Squadron Qualified Helicopter Instructors (SQHIs) and as such were very busy ensuring all pilots were ready for operational flying and had been out to identify the FOBs. A period of acclimatization had to be taken into account too.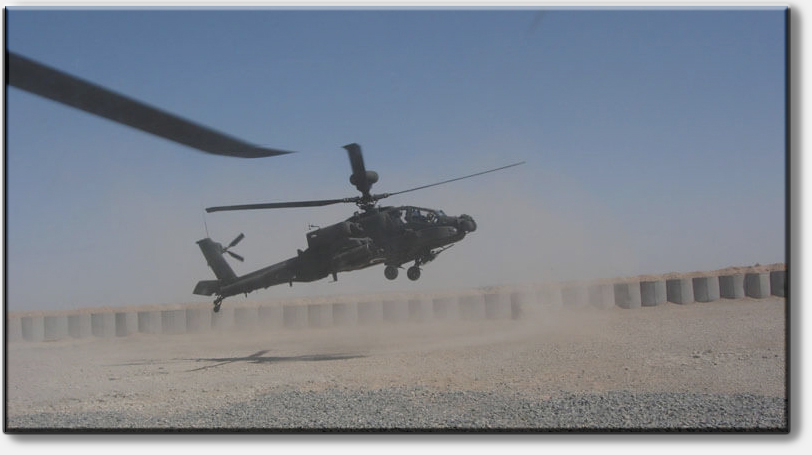 An Apache lands at Gereshk, Afghanistan
All the initial training was conducted from Kandahar but the bulk of the Squadron would move out from there to Camp Bastion (BSN) as soon as they were trained and acclimatized and Bastion was ready for the aircraft. Remaining at Kandahar would be the Regimental HQ element and one complete Arming Point team. The Arming Point team would rotate throughout the tour between the two locations, to allow for a period of relative rest for those that would be operating at a higher tempo from Bastion and also for experience. The pilots would also do the same.
The main REME element would remain at Kandahar with a detachment supporting the aircraft being based at Bastion. All major servicing and maintenance would take place at Kandahar with the test-flying being carried out by pilots on the 'rest' cycle. Captain Piers Lewis later wrote,
'The Squadron was based in Kandahar for the first month as Camp Bastion was not ready to receive the Apache. This didn't seem too bad with the creature comforts of the "Green Bean Coffee House," the gym, Welfare centre and other attractions, however, with a severe lack of transport, it soon got wearing having to walk everywhere (Kandahar, or KAF is a big place).'
He did not mention the huge cesspool, the smell of which was a constant presence and which bore the satirical sign, 'Swim at your own risk. No lifeguard on duty.'
The forward base at Bastion was set up for up to four Apaches (rising to six on occasions) and two Chinook (sometimes four) and which would also be capable of operating visiting Lynx. It was a purpose-built UK Military base in Helmand province, housing not only the helicopters but also 3 PARA, 7 RHA and a host of other units and enablers. For the Squadron, Bastion became its main focus, as the majority of its operations were in support of UK forces in Helmand.
Kandahar was the rear base where major servicing was conducted. The first shock to get to grips with in theatre was the heat. The temperatures would rise up to, and occasionally exceed, 50 degrees in the shade. This was just about acceptable for the aircrew in their air-conditioned cockpits; however, the ground crew, strapping Hellfire missiles and rockets to the side of the aircraft, found the temperatures a real challenge, given their thick protective clothing requirements. Piers Lewis described Bastion as follows,
'It wasn't long before the emphasis switched from operations based out of Kandahar to operations from the brand new Camp Bastion in the middle of the desert. Most of the Squadron much prefer it there due to the proximity to, and focus on, pure operations and the big team spirit. Unfortunately, there were no coffee houses at Bastion, only dust, dust, and more dust!'
JHF (A) Forward HQ was an empty tent, for which the ground crew made a map table from scrap wood, which proved very durable. Furniture arrived and when Andy enquired as to its origin, was told, 'Don't ask sir.' Some of the tents had air-conditioning, which worked some of the time. Washing and shaving facilities could have been described as sparse or perhaps austere. To begin with the OC shared a twelveman tent pod with Staff Sergeant Tyler and a number of others. Soon the names of towns and villages in Helmand would become very familiar to those watching the news and reading newspapers back in the UK – Sangin, Musa Qa'leh, Lashkar Gah, Now Zad – these were all within the Squadron's range of activity.
Chris Hearn comments on this period focus on the intensity of the learning process, establishing the rules of engagement and developing proficiency in the precision use of the range of weapons carried. He notes,
'Our biggest concerns were to avoid a "blue on blue" incident or to cause civilian casualties. It was better not to fire if there was any doubt whatsoever. We also worked hard on expanding the operational parameters through the proper channels and in paying due regard to flight safety.'
Although the first UK Attack Helicopter mission was flown from Kandahar on 10 May, the Squadron's first taste of real action was on 17 May, with an aircraft being engaged from the ground by an RPG. The first use of a Hellfire missile was three days later, and was an equipment denial task of an abandoned French vehicle (following an ambush). Itwas flown by Captain Lewis and Staff Sergeant Ebdon, with WO1 Mulhall and Staff Sergeant Bird in support. This naturally spawned comments like, 'The first time the British Longbow has been used in anger against the French since Agincourt!'
It was not long before the Apache was conducting engagements very frequently. Tasking was described as, 'varied and complex.' Most tasks required escorting Chinooks, but the Apache also provided surveillance and reconnaissance, ground convoy protection, and a lot of support to troops in contact, working with 3 PARA, US forces, Canadians, Dutch and others.
The Squadron also worked with fast jets, both UK and US, providing complimentary fire and, at times, control of all the air assets in a particular area or engagement. This is all now a matter of routine but back on that first deployment it was a succession of ground breaking achievements. Every day saw Squadron personnel learn and develop something new.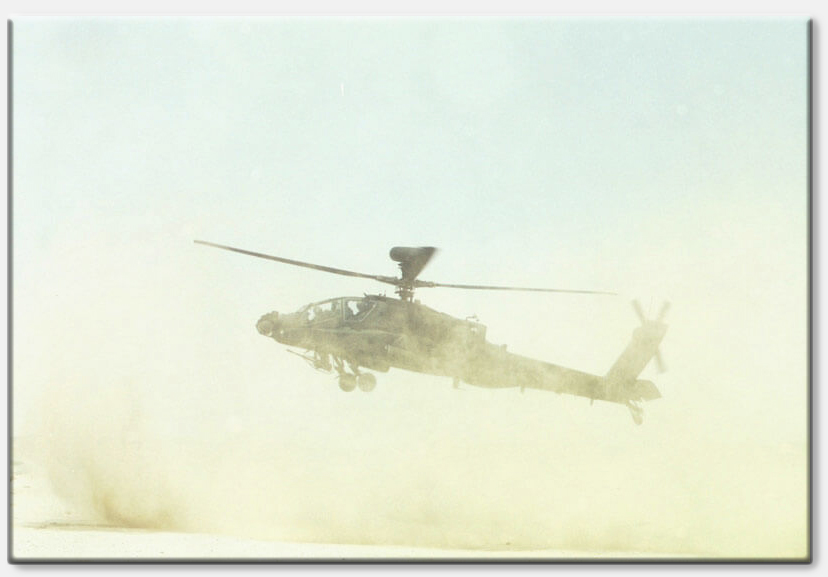 Apache pilots experiencing "Brown Out" conditions in Afghanistan.
The learning curve was indeed steep. They also had had a good relationship and closely co-operated with US Apaches. Chris Hearn recalls three events of particular significance, firstly, hearing a Joint Terminal Air Controller at Now Zad say to a Harrier pilot, 'You can go back to base now I have the Apaches here.' Secondly being given the 'cold shoulder' by Harrier pilots at Kandahar when he called in with Tom O'Malley, only to find a few weeks later it was the Harrier pilots seeking out the Apache crews to see how they could integrate on missions.
And finally, the very helpful advice given by the pilots of Taskforce Nighthawk, which flew the US Apache,
'The main hazards in Afghanistan are weather, terrain and enemy action in that order. But do not underestimate the Taliban, they will learn quickly what you do, how you do it, the way you continue to do it and will react accordingly. Do not fall into a routine and stick to it.'
The Apache certainly surpassed the expectations of both its crews and the forces being supported. The Squadron was establishing procedure and doctrine as it carried out its many tasks over a wide operational area – virtually everything was a 'first' for the British Attack Helicopter Force.
They were involved in a significant number of missions where troops were being engaged by the Taliban, in which the aircraft performed extremely well, apparently more or less unaffected by the heat, height, and weights being carried. A number of deliberate operations were conducted and in the first, by the name of Mutay, which was supposed to be a 'non-kinetic' cordon and search operation (to use the prevailing jargon), the Apache earned its spurs, and, in the words of many of the private soldiers and officers of the ground forces involved, in what became a major kinetic operation (or firefight to be more exact), the Apache 'saved their lives' and was 'frankly awesome,' which was very rewarding for all involved to hear, both aircrew and groundcrew.
It provided accurate and timely fire support, very close to friendly force locations, either killing or suppressing the enemy and allowing the ground troops the time and space to regain the initiative. Piers Lewis describes two engagements,
'The Squadron took part in a number of deliberate operations alongside the Chinooks of 1310 Flight, and members of 3 PARA Battlegroup (and their attached elements), not least, two notable operations called Op Mutay and Op Augustus. Mutay was the first real air assault operation by the UK and marked the real emergence of the aircraft on the scene when a 'non-kinetic' operation went against the grain and turned 'fully kinetic', proving the old adage that "the enemy always have a vote." AH supported elements of 3 PARA, notably the Gurkhas and the 3 PARA Patrols Platoon as they became decisively engaged even before the H Hour had arrived.
The result of the AH being on station was that a number of Taliban, who had ambushed the ground forces, were engaged by AH, and no British lives were lost. This was incredibly fortunate considering the weight of firepower the ground forces were subject to. The only damage suffered by an Apache was to two small areas of ZJ173's tail boom where, upon return, bullet holes were discovered.
Op Augustus, on the other hand, on 14 July, was predicted as being fully kinetic, and epitomized the essence of "Air Assault" with the sheer number of aircraft involved in the mission. The OC was the Air Mission Commander and WO1 Mulhall was the airborne JTAC. Eight Apache and Chinook were airborne at the same time, inserting a sizable force into an area north of Sangin. This included a number of other air assets including B-1B Lancer, Predator, AC-130 gunships, and A-10s to name but a few, and constituted a full, multi-national operation. This operation saw the Chinooks take their first battle damage as they inserted members of 3 PARA. The AH fired 30mm and a number of Hellfire missiles. The lessons learned formed the basis for all subsequent AH ops in Herrick.'
Chris Hearn also has vivid memories of Op Augustus. He was flying with the OC who was under pressure from the BG and Brigade Command to confirm if the HLS was safe to land on. Just as he was going to give the 'LS clear' message, they observed a group of people moving towards the HLS. A Hercules AC-130 gunship was all ready to fire when the Apache's crew was able to discern that they were in fact women and children (and a dog!) moving around the objective. The crew stopped any engagement and their timely intervention prevented a tragic incident.
It should be added, however, that when the Chinooks did land they were engaged heavily from three sides, 'with tracer fire everywhere and an airburst RPG close to the Apache.' This was also the occasion when WO1 Chris Mulhall won a Mention in Dispatches for his role as an airborne JTAC controlling a wide range of Coalition aircraft.
Apache soon came to be considered essential for UK operations in Afghanistan, being a 'go / no go criteria' for many missions. Brigadier Ed Butler, 16 Brigade's Commander was particularly appreciative and described UK Apache as a 'Mission essential piece of equipment.'
The insurgents moved in small groups using the ground, which they knew every detail of, very well; sniping at times and places of their choosing, fighting hard and fearlessly. Their main weaknesses were probably their leadership and basic skills, but they proved to be an enemy that demanded respect, who would capitalize on any mistake or weakness. They were armed with small arms, automatic weapons, heavy machine guns and RPGs, with looming threat of ex-Soviet anti-aircraft guns and surface-to-air missiles, some of which had been given many years before to the Mujahideen by the USA.
In reply, the Apache mainly fired 30mm cannon because it was discriminate, effective and accurate. Hellfire was employed twice to destroy abandoned Coalition Force vehicles (one French, as previously mentioned and one UK) and on 16 July 2006, to destroy a suspected anti-aircraft gun site in Now Zad. During Operation Snakebite in early August, the relief and resupply of the District Centre at Musa Qa'leh, the four Apaches of 2 and 3 Flights mounted continuous Relief in Place for over fifteen hours, tracking down and destroying a Taliban sniper team, which had just killed a soldier.
The capability of the Apache was recognized by the enemy forces and there was ample evidence that the mere presence of the aircraft was an effective deterrent to their activity. Serviceability proved higher than expected due to the excellent work of the REME detachment at both locations, which was especially evident when the aircraft returned for refuelling and rearming whilst involved in TICs. The ground crew and REMEs responded quickly and effectively, checking the aircraft for battle damage (of which there had been two instances in the early weeks of the aircraft sustaining minor damage due to enemy action), providing rapid refuel and rearm, water and food for the crews, and also new video gun tapes to replace the full tapes which recorded the engagements.
They also provided NVG equipment if the mission was likely to be prolonged into night. The three years combined training had resulted in a close-knit team, which was proving its effectiveness on operations. Matty Rogers, by then a Lance Corporal, remembers flying with two Airtroopers in a Chinook to Garesh to rearm an Apache with 30mm ammunition; living and working in a dustbowl, loading missiles weighing 45 kilograms in 45 to 50 degree heat, while wearing fireproof suits.
There was huge pressure to rearm and refuel the aircraft speedily, knowing that lives depended upon their efficiency, with the time achieved on CTR, while training in England, being halved when necessary. There was a great bond of trust and mutual respect between the pilots and the ground crew. Sergeant Morini recalls the lack of shade and the need to drink up to ten litres of water a day – most of which was sweated away. Between breakfast and dinner he lived on a diet of biscuits and crisps. Living in a hot, crowded 300 man tent at Kandahar was no picnic either. Incoming rocket fire was frequent but thankfully mostly inaccurate.
He praises Major Cash and Captain Tinley-Beets for the support which they gave to the teams working away in these difficult conditions. Lance Corporal Marcus Sharpe was equally busy with the Signals Operations Staff, spending less time setting up the MPS and more on manning the communications relay in the Ops tent, where sixteen hour days were not uncommon, as well as editing the vital gun tapes for review.
On 02 August a brief ceremony was held at Bastion to name the flight line Chinthe Lines, in tribute to the Squadron's badge and its history. It is of interest to note that according to Burmese mythology, Chinthes almost always travelled in pairs as they protected their pagodas – so too did the Apaches. Towards the end of the tour the Apache crews were organized with each flight on a 12 day cycle: three days in the Ops Room to assist with communications and paperwork and also planning future missions; followed by three days flying pre-planned sorties, including tasks such as escorting Chinooks dropping off supplies to outlying bases, providing top cover to patrols or supporting a major operation, though it was common on the way back from one of these trips to be retasked in response to a request from a ground call-sign. Next came three days on Very High Readiness (VHR), able to respond at any time day or night.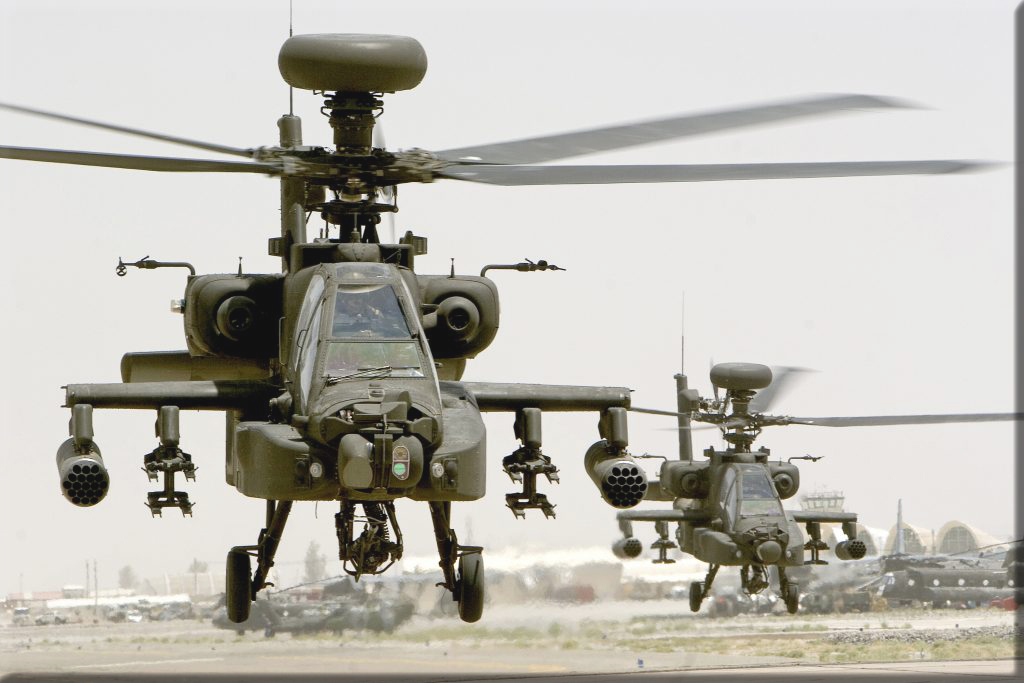 Squadron Apache at Kandahar airfield, Afghanistan.
One VHR Apache would be designated the Incident Response Team (IRT) cab, responsible for escorting a medical evacuation Chinook and its medical team for the immediate recovery of personnel, say in the case of a road traffic accident, a mine strike or a compassionate case, though if the location was considered hostile then it would be joined by the Helmand Reaction Force (HRF) cab. An HRF task would also be for both helicopters bringing swift reinforcement to TIC, if urgently required. The last three days of the cycle were spent on Testing and Maintenance, at Kandahar, flighttesting aircraft which had just been serviced.
The Apache is a labour intensive machine in ideal conditions and Afghanistan was very taxing on equipment and the personnel required to maintain it, with some thirty-two man-hours of work in gruelling conditions of heat, cold, wind and sand on the ground being required for each flying hour.
Many members of the Squadron paid tribute to Andy Cash's outstanding leadership under a huge amount of pressure and with a vast quantity of administration to process. It is believed, not without justification, that he did not get the official recognition which he deserved. His style of command and care for his personnel was very much in the mould of this Squadron's first OC, Denis Coyle, and in many ways he faced similar challenges in terms of the responsibility resting on his shoulders and in proving a concept. The OC himself felt mentally drained as the Squadron's first tour at Bastion came to a close.
He was the only officer who could give the launch authority for the Apaches or Chinooks from Bastion day or night and spent many long hours in an Ops Tent, full of people and with the temperature baking all inside. He developed a very close relationship with 3 PARA and has high praise for its CO, Lieutenant Colonel Stuart Tootal and his 2i/c, Major Hum Williams, with whom he had to share some very difficult decisions. He also greatly appreciated the skill and bravery of the RAF's Chinook crews. The air assets at Bastion were a small footprint covering a large area and worked on the principle of, 'If we can we will.' Looking back Andy summarizes his thoughts,
'We were pathfinding and laying down the basic seed corn. When I returned two years later as CO of JHF the situation was just recognizable. The AH Squadron remained the backbone of JHF, soldiers from the AH Force were key figures in all the main departments, even the ops table that had been built by 656 Sqn signallers remained in use. The quality of personnel at all levels was outstanding.
We went from zero knowledge to a long way up the scale in the course of the first two or three AH deployments. It is one of my great regrets though that as my departure from theatre was delayed due to operational requirements in 2006, when I returned to Dishforth, the Squadron had already gone on leave, I was posted and never had the opportunity to say a proper farewell to a great team.'
During the course of this deployment some 7305 cannon rounds, eighteen rockets and eleven Hellfire were expended. The Squadron's first tour in Afghanistan lasted from April to August, handing over to 664 Squadron who, in turn, were followed by 656 again from November 2006 to February 2007, this time with Major David Amlôt, who, having flown various types of Apache over the last ten years as an exchange officer with the US Army and then back in the UK, slotted in quickly at the helm of 'a first class team who all pulled together.'
He noted that at no point in his career, before or since, had he worked in a Squadron that was so truly integrated between the ground crew, aircrew and technicians, which he directly attributes to the leadership of Andy Cash and their shared collective experience of the preceding four years. This was quickly reaffirmed with the fact that, by the end of week two, he had fired every weapon the aircraft was able to carry. One of his early contacts even appeared on Sky News the following day. Another newcomer was Britain's first female Apache pilot, Captain "Charlotte Madison".
Captain Duncan Short deployed as the FARP Commander and Captain Keith Millsom stepped up to deploy as the FOB commander on the second tour, commenting,
'The basics of the deployment didn't change much but the place changed a lot. The Taliban were still very active and our flying had increased to ensure that all RAF rotary flights has armed cover and many of the patrols on the ground were afforded top cover from the Apache too. I was based at KAF and along with the FOB Commander role I was also the Motor Transport Officer for JHF. I had an Arming Point Team with me and a small MT section, which included Army Air Corps personnel and a few RLC drivers as well as TA soldiers.
With Duncan Short I was responsible for planning the AAC's first austere FARP. There was a planned operation that involved the infantry, with fire support from Apaches, at considerable distance from Camp Bastion. This was Operation Chrystal and a FARP was required to allow the aircraft more time on target and a faster response time for rearming. It needed an area that had to be large enough to receive two Apache at a time and have a refuel capability. The fuel was going to be stored in huge pillow tanks that would be flown forward, empty, and then once sited would be filled with aviation fuel via a transfer from the on board fuel tanks of an RAF Hercules Transport aircraft that would visit the FARP.
The operation was a great success and the FARP was run by Corporal Kev Blundell, the Squadron's senior and most experienced ALPC.'
The first 'austere' AAC FARP was established on a dry lake bed in Southern Helmand, seventy kilometres from the nearest source of water. The ground crew lived in shell scrapes for five days among the wild camels and then suffered torrential rain, which at least eliminated the problem as regards the lack of fresh water.
Towards the end of the tour aircrew and ground crew alike would suffer extreme fatigue. As the very experienced pilot and later best-selling author, 'Ed Macy,' wrote,
'Our Apaches needed REME avionics and airframe technicians, armourers, arming and loading teams, drivers, refuellers, signallers, IT specialists, Intelligence officers, clerks and storemen – ninety-eight people in total; more than six of them to each pilot and every one an expert in their own field.'
Early in this tour the Squadron changed its original Herrick call-sign of Wildman, which was too similar to other US call-signs and chose its 'Ugly' call-sign, eg 'Ugly Five Zero, Ugly Five One,' as well as having a bit of fun on the ground with carefully selected individual nicknames, which were a boost to everyone's morale.
The job was essentially the same but it was a continual game of cat and mouse as the Taliban changed tactics, 'They learned, we learned; then we had to learn again.' Moreover, the longer the campaign went on the more complex the Helmand battlespace became.
The workload for everyone in the air and on the ground at Bastion and back at Kandahar was intense and unrelenting. Piers Lewis was now the Ops Officer and spent long days in the Ops Tent, often sixteen hours at a time. He still, of course, also took his share of flying duties and remembers escorting a helicopter carrying President Karzai and, on another occasion, a leaflet drop by Dutch AS532 Cougars as part of Op Baaz Tsuka in Panjwayi immediately before Christmas. Instead of gently fanning out over the landscape, the leaflets, still bundled together, fell like a stone.
He enjoyed Christmas, which the OC had tried to make as pleasant as possible in the circumstances. Gifts from 656 Squadron Association were appreciated, as well as cigars and Duchy Original biscuits from the Colonel-inChief, HRH Prince Charles. Other impressions which remain fixed in his memory are of the awesome power of the canon fired by a US A-10 Thunderbolt II providing suppressive fire support, observing the pattern of life in Kajaki change from the first tour, achieving his 1,000 hours escorting a compassionate case CH-47 back to Kandahar in very low dust visibility and a visit in September from Prime Minister Tony Blair and working with the French, Americans, Danes and Dutch,
'I also recall walking back from Bastion to the accommodation on New Year's Eve (after midnight) and having a quiet moment in the cold watching the ground troops fire off flares in festive celebration. On getting back to the pod, I briefly celebrated the New Year with Acting Major Simon Barr whilst listening to some classical music, which was quite surreal after the day I had had.'
David Amlôt recalls two very unusual encounters in November, firstly he was flying in the Kajaki area when he realized that the Harrier GR.7 from 800 NAS with which he was operating was being flown by Lieutenant Commander Toby Everett, an ex-AAC Gazelle pilot, who had been on the same initial Army Pilot training course as David, fifteen years before.
And if this did not bring home to him the fact that it was indeed a very small world, only a few days later he was able to patch a direct radio communication from the cockpit of his helicopter and speak to the guests at the Annual Apache Pilots' Dinner, which was being held that evening in the White Hart Hotel, Salisbury.
It had been decided that a major effort would be made early in 2007 to disrupt the Taliban's southern logistics supply chain.
A remarkable action took place at Jugroom Fort, Glacier II Bravo, which was the next point north on the supply chain and was the Taliban's main forward operating base in southern Helmand. In the course of fierce fighting the Royal Marines sustained several casualties and one marine, Lance Corporal Mathew Ford, was missing in action. He was found, apparently unconscious but still, it seemed, alive, by an Unmanned Aerial Vehicle and confirmed by a Nimrod reconnaissance aircraft and the Apache crew flying overhead (the third wave of support during the mission).
The Chinook helicopters were recovering the initial wave of casualties and a second group of five critically injured casualties elsewhere in Southern Afghanistan. It was decided to mount a daring and never-before-attempted rescue mission by landing two helicopters from HQ Flight beside the Royal Marines command post in the desert nearby. Four volunteers, Captain Dave Rigg RE, WO1 Colin Hearn RM and Marines Chris Fraser Perry and Gary Robinson, attached themselves to grab handles on the sides of each Apache and flew at low-level and much reduced speed towards the fort.
There, in the teeth of heavy enemy fire and the smoke and confusion of battle, they landed as close to Marine Ford as possible, hauled him over and strapped him to the side of ZJ224. Meanwhile, two further Apaches from 3 Flight flew overhead and engaged the enemy, expending almost all their weapon loads in the process. As "Charlotte Madison" later wrote,
'Watching our gun tape again, I'm shocked to see how many RPGs and volleys of tracer fire miss our aircraft by inches. It's a small miracle that, of all the aircraft that left Bastion that day, not a single one came back with a bullet hole in it. No physical damage was sustained, but the emotional battering was enormous.'
The rescue was successful in that Marine Ford was recovered but sadly he had been killed instantly during the initial contact. Corporal Matty Rogers remembers it as 'a surreal day' at Bastion with aircraft rolling and in and rolling out for hours and 'all hands on deck' to rearm and refuel them.
For the OC and his Ops Officer too, the time spent on the ground by the Apaches at Jugroom was the longest four minutes and thirty-three seconds of their lives. Some months later, two Squadron members were invested with the DFC, a Joint Commander's commendation and two with the MC in recognition of their great skill and bravery. This is the first time that a 656 pilot had been awarded an MC since 1944.
In mid-2007 the Squadron moved from Dishforth to become part of 4 Regiment as part of the Attack Helicopter 'Super-Base' at Wattisham Airfield in Suffolk. The AH force at Wattisham now consisted of 3 Regiment, with 653, 662 and 663 Squadrons and 4 Regiment with 654, 656 and 664 Squadrons.
By the spring of 2008 the Squadron was back to full strength as it acted as host squadron to CTR 8 and also started its training year prior to deploying again on Operation Herrick in January 2009. It began with an early start on a freezing morning in which personnel arrived with bulging bergens to board the coaches that would take them to RAF Brize Norton for the start of the long journey to Afghanistan once more for Herrick 9.
The base for the four month tour was Bastion again, supporting 3 Commando Brigade RM, with a small detachment at Kandahar. There had been many changes, not the least of which was the improved standard of the accommodation at Bastion and the fact that the camp was now also supported by more than 2000 locally employed contract staff. Thousands more troops occupied FOBs across Helmand, with the increased use of mines and IEDs (Improvised Explosive Devices) being a major factor. "Charlotte Madison", who was now the Squadron Ops Officer, noted,
'Things change so quickly here that my two previous tours are almost irrelevant in terms of knowing where I'll fly and where the troops are now concentrated.'
There was one very familiar face in theatre, however, as the commander of the Joint Helicopter Force Afghanistan for the first three months was Lieutenant Colonel Andy Cash. One of the largest operations during this tour was Shahi Tandar, a series of actions by Coalition troops including 42 Commando RM, in Central Helmand and Khandahar, targeting Taliban strongholds, bomb-making factories and stores of opium.
Another very significant air assault took place in February – Operation Diesel – the largest Commando raid at that time since the Second World War, with 670 troops accompanied by more than twenty air assets and with the purpose of disrupting narcotics production in the Upper Sangin Valley. This was followed by Aabi Toorah which extended the reach of Coalition forces into the 'Fish Hook,' 100 kilometres south of Garmsir. In order to support the three week operation the Squadron once again deployed a FARP team to a Forward Operating Base – FOB Dwyer. Both aircrew and ground crew were deployed forward, which became the highlight of the tour for many, with up to four aircraft at a time being supported.
The REME did an outstanding job in conducting the first engine change in such an austere location following a very rare occurrence of an engine failure in flight. Sergeant Morini remembers the first few days in Dwyer well, his team of fifteen showing tremendous versatility and skill in dealing with between thirty and forty underslung loads, all brought in by Chinook.
The FOB was very close to the Green Zone which certainly concentrated the mind, as did a storm of 'biblical proportions.' Two of the ground crew went out to ensure the Apaches were secured safely, when an overly enthusiastic sentry began shooting off flares and live rounds over their heads. One of them suggested, 'Should we shoot back so that he knows we are friendly,' but they decided instead to request, in rather robust language, that the sentry should desist from firing, which he did.
The aircrew were in awe of the terrain, sighting a number of Alexander the Great's forts abutting the Helmand River carved out of ancient volcanic plugs. David Amlôt noted that during this tour the Apaches' ability to deliver Hellfire missiles with pinpoint accuracy really came into its own as the Rules of Engagement surrounding its use were modified and that all aircrew spent quite a considerable amount of time working with UAVs, speaking to their 'pilots' many thousands of miles away at Nellis Air Force Base near Las Vegas, Nevada. Such teaming has now become commonplace on the modern battlefield.
Another significant change from previous tours was the amount of time spent operating in the Hindu Kush Mountains in support of other nations. A FOB was maintained on two occasions for five days at the Dutch base of Tarain Kowt. The final important operation of the tour saw the OC as the Air Mission Commander of an air assault supported by twenty-three aircraft into the Northern District of Marjah – until that point an untouched Taliban stronghold.
Four days of intense fighting followed with the Apaches spending hours in the overhead expending significant amounts of ammunition often under sustained anti-aircraft artillery fire. In April 2009, 656 handed over to 662 Squadron. A total of 1985 hours was flown during the tour. Former Chief of Defence Staff, Air Chief Marshal Sir Jock Stirrup, summarized the Apaches' contribution in Afghanistan,
'You do not need to ask them about their contribution, you need to ask those on the ground who depended on them, day after day, to provide the crucial military edge over the enemy. They will leave you in no doubt about what the Apache achieved and the praise of the praiseworthy is beyond measure.'
On return to the UK and following a month of post tour leave, the Squadron welcomed HRH Prince Charles and the Duchess of Cornwall to Wattisham in July, when they presented personnel with their Operation Herrick medals. By this time David Amlôt had been followed in command by Major Mike Neville, who was new to the Apache. Having completed CTR and training in Arizona, towards the end of the year he was advised by the CO of 4 Regiment AAC, Lieutenant Colonel Andy Cash, that the Squadron had been earmarked for a new role and would not be returning to Afghanistan.
Libya
The decision having been taken for military intervention in Libya in 2011, the carrier HMS Ocean needed to be replenished with ammunition, equipment and extra aircraft. This was carried out off the coast of Cyprus with tons of stores being embarked. Another first was the delivery of an Apache to Ocean by RFA Fort Rosalie, a Fleet Support vessel, being the first time an Apache had landed on a ship of the Royal Fleet Auxiliary. This made a total of five Apaches embarked.
There was also much work being done to assess the anti-air threat level, as even a cursory glance on Google would have revealed that the pro-Gaddafi forces were well equipped with a large variety of weaponry. In early June, the Squadron commenced operations off the coast of Libya as part of the UK's contribution to the multi-state coalition's military intervention to implement United Nations Security Council Resolution 1973, which formed the legal basis for its intervention in the Libyan Civil War and the protection of civilians from the depredations of the Gaddafi regime.
4 Regiment's new Commanding Officer, Lieutenant Colonel Jason Etherington, joined HMS Ocean fresh from rounds of planning at the UK Permanent Joint Headquarters. The AH CLT deployed to the Combined Air Operations Centre in Poggio, Italy, to ensure that the missions were integrated into the Air Component Campaign and supported by the wide-ranging capabilities of other nations' air and maritime assets. The first mission was flown by the OC on the night of 03-04 June and resulted in the destruction of a coastal radar site, as has now been seen by many on YouTube.
Shortly afterwards the Apache was engaged by an anti-aircraft gun mounted on a pickup truck, which was a mistake on the part the gunners as the subsequent engagement proved. In December 2011, writing in The Times, Rear Admiral Guy Liardet summarized the contribution of the Apaches,
'AAC Apache gunship helicopters joined the force embarked on the helicopter carrier, HMS Ocean. The Air Group Commander, Jolyon Woodard, said, "The challenges of integrating the Apache into the naval air group and the Ocean were fewer than we anticipated. With an outstanding team of detachment commanders combined with a well-drilled ship's air department, we faced down pretty much everything that came our way. Thus I could relax, look busy and take all the glory."
Accompanied by Fleet Air Arm Sea Kings, the Apaches attacked 110 targets in twenty-two sorties, hitting military vehicles, installations and communications equipment, flying as far as 50 miles inland, averaging about an hour's flying time per target, firing ninety-nine Hellfire missiles and over 4000 rounds of 30mm cannon.
Here once more is the wellworn argument, a moveable deck in international waters does not need the proximity of a friendly country, basing rights, overflying rights, Status of Forces Agreements, "boots on the ground" sensitivities and hugely expensive in-flight refuelling.'
Lieutenant Colonel Jason Etherington, the CO of 4 Regiment added,
'We did everything from attacking coastal targets to flying 60 kilometres inland to strike at different locations. We had to launch with certainty and ensure that we were targeting pro-Gaddafi forces. If there was any chance of collateral damage, or if there was a risk to civilians, we were in no doubt about what we should do.'
The OC of 656 Squadron, Major Mike Neville, commented,
'The typical mission saw us fly across the sea and over the land to targets allocated to us by NATO for the protection of Libyan civilians on the coast and inland. This was demanding aviation, but the Squadron was well furnished with very experienced pilots (the average crew had 4560 flying hours at the controls and 310 deck landings).
Add to this the professional dedication of the REME, AAC soldiers and RAF safety equipment support technicians who worked twelve hours on, twelve hours off for the majority of the embarkation and one can begin to appreciate the professional application required. The operationally focused and tireless Ship's Company maintained a continually ready platform.'
As regards the particular unique elements that the Apache brings to the battlefield, he noted,
'Attack Helicopters are menacing, they manoeuvre in and out of sight and sound at any time of day and in almost all weather. They create uncertainty and deep unease in the mind of the enemy and they are precise with their weapons; with the additional element of surprise by launching from a floating platform capable of moving hundreds of miles a day. Several missions were flown in concert with Tornado GR4 and Typhoon, with coordinated targeting and weapons effect.'
On a nightly basis Apaches operated with an extraordinary variety of assets, from French and UK submarines, to the last operational flight of the UK's Nimrod MR2. On one occasion they took the UAV teaming concept, well proven in Afghanistan, to the next level by launching Hellfire after Hellfire to destroy armoured vehicles hidden in a palm grove out of sight of the Apaches laser designated by a UAV positioned overhead.
One of those experienced pilots, mentioned by the OC, was Chris Hearn, who passed 1000 hours on Apache alone while on board Ocean. He recalls being woken at 1400 hours for night operations, flying over the dark sea towards the Libyan coast with his heart fluttering, into a potentially very dangerous environment, as Gaddafi's forces were very well equipped with a large variety of anti-aircraft artillery. Chris was most impressed by the sight of a SAM being launched from the shore and was greatly impressed by the effectiveness of the Apache's countermeasures. Even such a well-qualified pilot found the deployment, 'challenging, thought-provoking and exhilarating.'
One of the ninety servicemen and women from 4 Regiment who served on Ocean during the operation, REME WO2 Craig Peaple commented,
'The hangar was 40 degrees Celsius with 85 per cent humidity so the guys were sweating all the time but we achieved 100 per cent serviceability for every mission. We were in the hangar throughout the day and when we came on deck it was dark, so we didn't see any natural light for a long time.'
Sergeant Matty Rogers pays tribute to the planning of Lieutenant Gavin Bosher and Sergeant Dan Bonner, with whom he worked to ensure that the loading of fuel and armament went smoothly. They had an excellent relationship with Ocean's crew, who were in turn impressed by the efficiency of the Ground Support Flight and REME personnel. Matty again remembers another 'surreal moment, straight from the film GI Jane' – sitting in the Petty Officers' Mess on the ship and watching it being announced on the television news that British Apaches were being sent to operate off Libya. Gavin adds,
'Working aboard HMS Ocean left one with no doubt that aviation operations afloat are uniquely demanding; standards mustn't just be monitored but scrutinized daily, training and supervision were vital. The SNCOs and NCOs repeatedly came to the fore and were supported by outstanding demonstrations of resolute working practises by even the most inexperienced airtrooper.
The full measure of the achievement has now sunk in – that we were the first and as yet only AH enablers to have conducted, successfully, the Ground Support Flight role at sea operationally.'
The last mission was flown in August and Ocean withdrew from the theatre in September. If the operation had continued, another squadron had been readied to take over having worked up on board HMS Illustrious. HMS Ocean and 656 returned to port in October, six months after departing for a five week exercise! 656 Squadron had completed the first operational maritime deployment of the Apache helicopter of any nation, since first coming into service in 1984.
This was a joint operation in purest sense, the Apache operated in its traditional air manoeuvre role launching from a ship in support of air operations. Following the end of the operation HMS Ocean received a visit from the Chief of the Defence Staff, General Sir David Richards, who addressed the ship's company,
'What you did in Libya and the way you have responded over the last few months have been in the best traditions of the Service; not only have you done great work operationally but you have broken new barriers professionally, particularly with the Apache. The name of HMS Ocean is held in high regard back in the UK and you should be proud, and deservedly so, of what you have achieved.'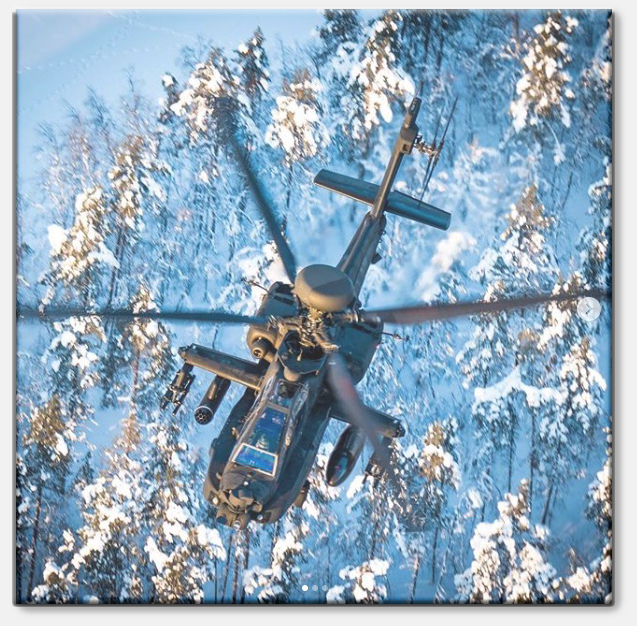 Today the Squadron spends much of its time in the frozen north of Norway in support of 3 Commando Brigade