The Squadron – Volans et Videns (Flying and Seeing)
656 Air OP Squadron RAF was formed on 31 December 1942 and deployed to India, then on to Burma under command of 14th Army, where it served with distinction. It remained in South East Asia for over 25 Years, its personnel serving in Malaya, Java, Korea, Borneo, Brunei and Hong Kong.
Back in UK in the late 1970's the Squadron was by now titled 656 Squadron Army Air Corps. It went on to serve operationally in Rhodesia, The Falkland Islands, and Bosnia, Croatia and Kosovo, before being chosen to become the UK's first Apache Attack Helicopter Squadron in 2001.
It has since served in Afghanistan three times and deployed from HMS Ocean into Libya. It remains at high readiness as Britain's only seaborne strike force.
The Squadron's early history is reflected in its badge, which features a Chinthe head in front of two crossed gun barrels (a Chinthe is a mythical lion-like creature associated with temples in Burma).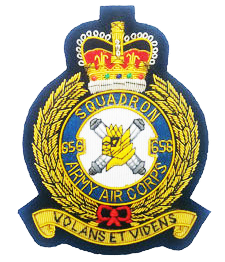 The Association
Some of the original members of the Squadron formed an Association shortly after the end of World War 2, but attendance at the annual reunion dinner gradually petered out as they dispersed far and wide in the post-war resettlement period.
The Association was re-formed in 1987 by the single-minded determination and hard work of Cecil Clark (Nobby), one of the original RAF ground crew from Burma days. To this day it continues to serve the current and former members of the squadron, and preserve the history and heritage of this unique unit.
We currently have almost 400 members, a mix of both serving and retired, representing many ranks and trades in the Army and the RAF, and including several original Burma veterans.
We have also collated extensive archives detailing the Squadron's history, resulting in the publication in 2013 of Auster to Apache, the History of 656 Squadron RAF/AAC 1942-2012 by Guy Warner .
We retain a close relationship with the current Squadron, based on Wattisham Airfield, Suffolk, and hold an event hosted by the Squadron every other year. We also form a contingent at the National Act of Remembrance at the Cenotaph every Remembrance Sunday.
We pride ourselves in being the only such Squadron Association in British Army Aviation, and enjoy links with such as The Museum of Army Flying and the International Auster Club.
Information about joining the Association can be found here